http://fchapelier.fr/?loringoskop=site-de-rencontre-gratuit-49-saumur&8c5=cb http://clubdes2vallees.fr/wp-json/oembed/1.0/embed?url=http://clubdes2vallees.fr/notrerandodejuillet/reglement/ Building firm, PJPS Construction Ltd, based in Beverley has received accreditation from both the Chartered Health and Safety Assessment Scheme (CHAS) and tender register, Constructionline to become a pre-qualified contractor in terms of efficiency, time & cost saving and best practice. These quality marks are widely recognised in both public and private sector organisations, giving building firm clients confidence to know they are dealing with a credible supplier, that is proven to achieve national standards.
Lintong Phil Jenkinson, director of PJPS Construction says:
"Constructionline is a Government Scheme for contractors and consultants that have reached the objectives and achieved Health and Safety compliances to bypass the qualification process when a new tender is published. This qualification is a minimum standard for Local Authority tenders, an area we are accessing at the moment."
"The initiative ensures a cost efficient process is carried out for the supplier and the client. Its assurances include Health and Safety, risk assessments, onsite policies and site inductions."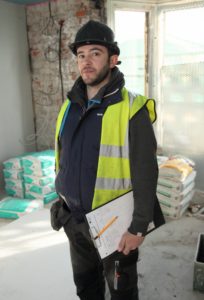 "From our point of view, CHAS and Constructionline gives the credibility needed for us to step up a gear and attract bigger clients. We are currently tendering for contracts in excess of £3Million but without this type of accreditation we couldn't get a foot in the door."
"The next step for PJPS is to gain ISO Quality Marks and Safety Schemes In Procurement (SSIP) which will take time and dedication.
By continuing to offer a reliable and trustworthy service, meeting national standards of work there is no reason why we can't compete against these bigger construction firms."
"In the short term, we are hoping that with the Constructionline accreditation we can continue to strive for high profile clients and larger properties to increase our credibility and grow within the construction trade."